The Prophet of Futurism aka Thierry Mugler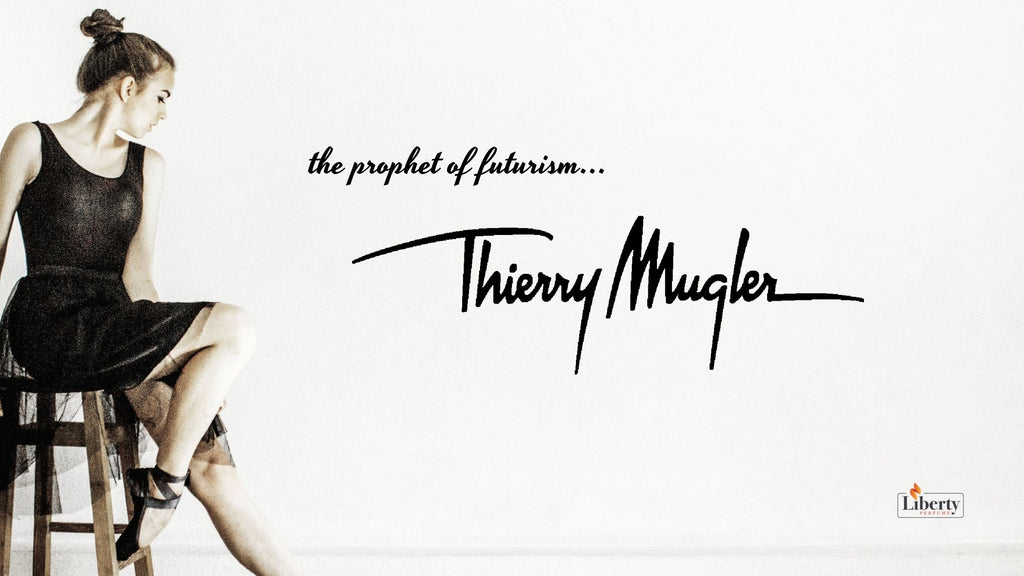 Thierry Mugler started to enchant us with his bizarre and quirky designs in 1973. He was a professional ballet dancer before he took the reigns of fashion design in the whole world. His first personal collection's name was "Café dé Paris". This collection started his legendary fame.
In 1976, a fashion editor, Melka Tréanton asked him to show his collection in Tokyo for an event organized by Shiseido. With gaining more audience Thierry Mugler opened his first Paris boutique in 1978. He also launched his first men collection at that time. His fame grew bigger and he became an internationally known designer around the 1980s. He launched his first book 'Thierry Mugler, Photographer' in the late 1980s. In 1992 he designed the first haute couture collection for his brand. And released his first perfume Angel, which will help him to became an even greater designer.
During the 1990's he literally changed fashion and catwalks. His unique style, designs was not for everybody. Thierry Mugler created a utopia for himself and design for that. When you look at Thierry Mugler's collections you can see sci-fi, femininity, seduction, passion and even bugs. His fascination for bugs created most of his work and designs.
In 1997 cosmetic firm Clarins became the majority shareholder of the Thierry Mugler brand. But it did not go well since Thierry Mugler's designs are not to meant for everybody and in 2003 Clarins announced that the legendary Thierry Mugler's collapse. But fragrance line did not shut down because of Angel's success. In 2005 Thierry Mugler brand created Alien fragrance and this perfume became very famous too.
In 2009, Beyonce asked Thierry Mugler to be her next tour's designer and Mugler accepted. He became the Artistic Director of "I Am? World Tour" and created all of the performance costumes for Beyonce and her dancers. He transformed Beyonce into a warrior goddess as we can all remember her majestic costumes. 
In September 2010 Nicola Formichetti became Thierry Mugler's new creative director and changed the brand's name to Mugler. Still, Thierry Mugler's designs continue to affect today's fashion, after all he's the The Prophet of Futurism. In 2019, Cardi B wore one of Thierry Mugler's designs from 1995 and Kim Kardashian too still wears Mugler designs.
Many years ago he created something different from all of the world. He made us known him and will continue to do that, with his fragrances as he mentioned before.
Angel by Thierry Mugler
Angel is "that" iconic perfume that was pretty much created the term gourmand in 1992. The noses behind Angel are Olivier Cresp and Yves de Chirin. Thierry Mugler wanted perfumers to make a mouthwatering and delicious scent for his first fragrance. In a very short time, Angel became worlds one of the most selling perfumes. Angel became the winner of award FiFi Award Hall Of Fame 2007. And even today, after nearly 30 years from its launch, there is probably no scent that is more distinct and recognizable than Angel. But you wonder why, what makes this fragrance this desirable and special? 
Angel has a very contrast nature, it is highly heavy, strong and so much tenacious but on the other side, it is also opaque and not too dense. It has fresh fruity notes which surprises you. But Angel is definitely not a sweet smell. Its patchouli and peppery bergamot notes give it a bit masculine feeling, but not that much. Angel gives you the confidence to seduce easily. 
Angel's top notes are cotton candy, cassis, coconut, jasmine, bergamot, melon, mandarin orange and pineapple. Middle notes are red berries, honey, blackberry, apricot, plum, peach, nutmeg, orchid, rose, lily of the valley, and caraway. Base notes are patchouli, caramel, vanilla, tonka bean, chocolate, amber, sandalwood and musk.